The Roses
Like the rest of us, not every rose in the garden came in a wagon in The Run, but--much like all of us--each rose here has put down roots in native soil and has its own story.
Just as the early pioneers shared cuttings and roots of roses with one another, bringing the familiar beauty of home to the dry unfamiliar prairie, so too have friends and neighbors donated roses to the Territorial Garden, a work in progress growing out of the generosity of today's pioneers.
Mary's Orphan
Unnamed rose found languishing at a Home Depot in Oklahoma City. Mary Haney, HPL's longtime Library Director, rescued and donated this unlabeled rose. This was one of the first roses planted in the garden and has rewarded its benefactor with frost to frost blooms.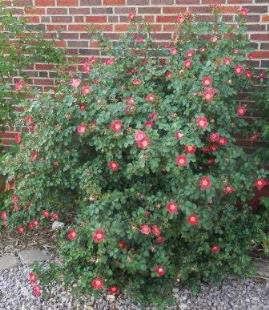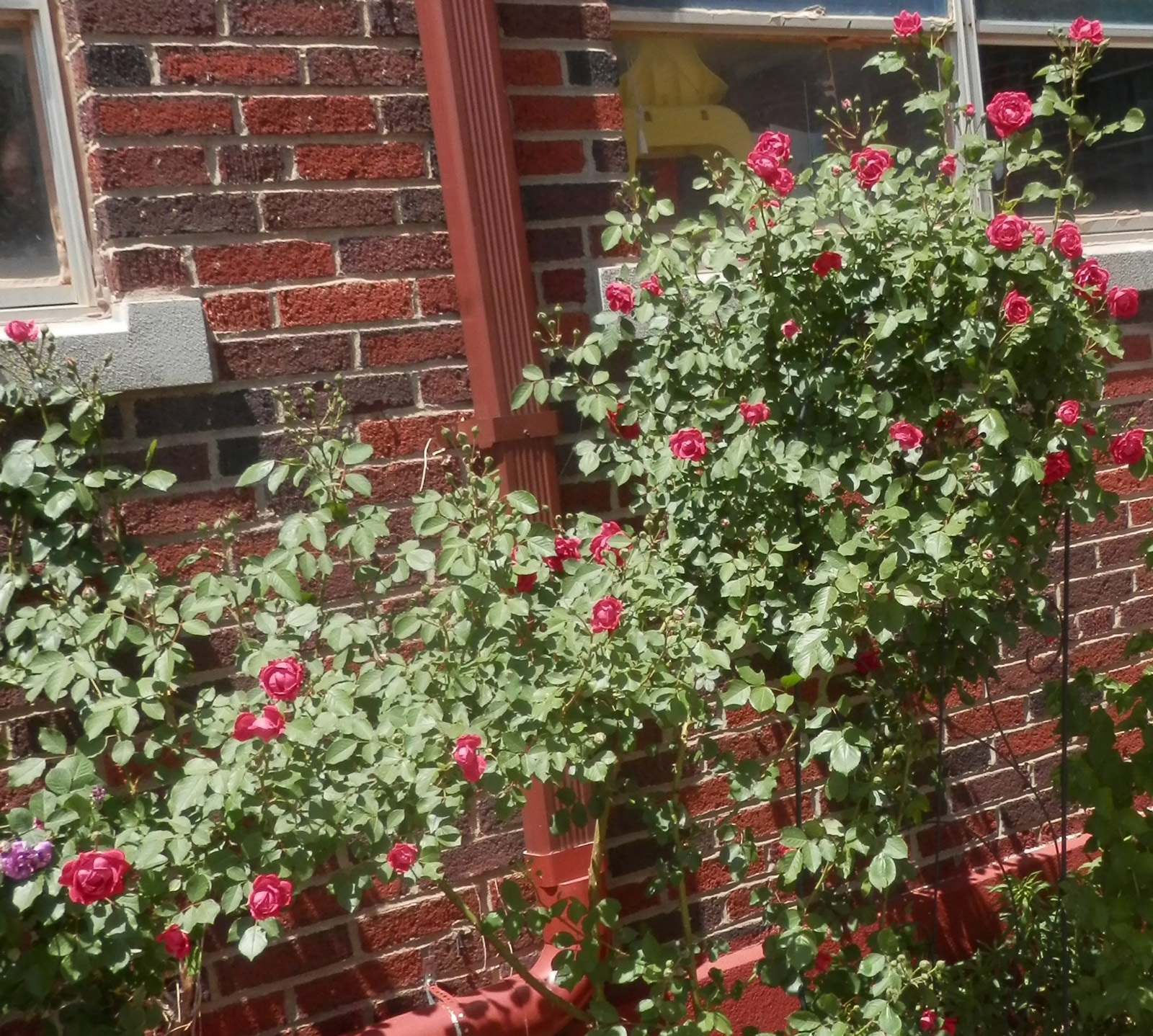 Mary's Paul's Scarlet
Introduced in 1916, this beloved climber quickly became the rose of choice for women across America. As a statehood rose, it's a good example of the newcomer that goes native and is accepted among the early pioneer families. You'll find it framing Hennessey area porches and doorways, arching along fences, and even growing untended over the crumbling foundations of long deserted farmhouses. This rose was the favorite of Mary Lorene, mother of Mary Haney, former HPL Library Director.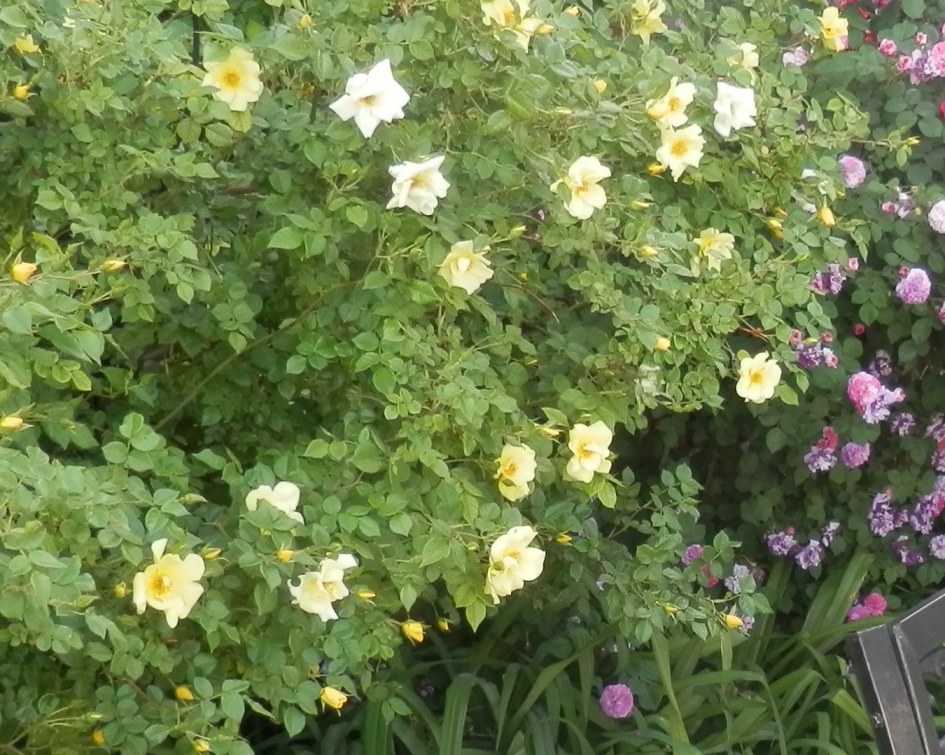 Yellow Knock Out
The newcomer to the Plains, spreading across the land and taking possession of every street corner and public landscape. The Knock Out roses are the perfect immigrant settlers, tough, adaptable, and hard working. This rose was the first one planted in the garden. It nearly died, growing smaller and more sickly until moved into the shade and richer soil.
The Hobbs Rose—Kathleen
Colleen Hobbs donation. This prolific beauty is from a rose gifted to her mother in the 1990s and is still growing on the farm purchased in 1957.
The Turkey Creek Farm was originally homesteaded by F.W. Coxson who had aspirations to build a magnificent barn for business purposes. Unfortunately, Turkey Creek washed away his dreams. The Great Flood of 1957 defeated the Berard family from whom Kathleen and Charles Hobbs bought the property. Colleen Hobbs says, "The Berards must have been heartbroken after the flood and didn't attempt to repair the damage. They just left." Her parents, however, persevered. Though they moved into Hennessey in 1964, the farm, floods and all, still remains in the family.
This rose is the only survivor of two gifted heirloom roses and, like true pioneer roses, has a fragrance as sweet as the root is tough.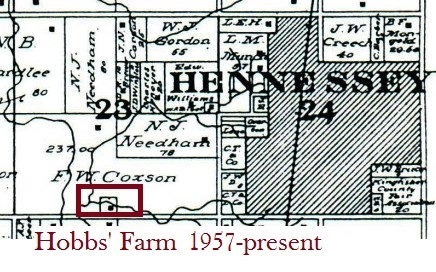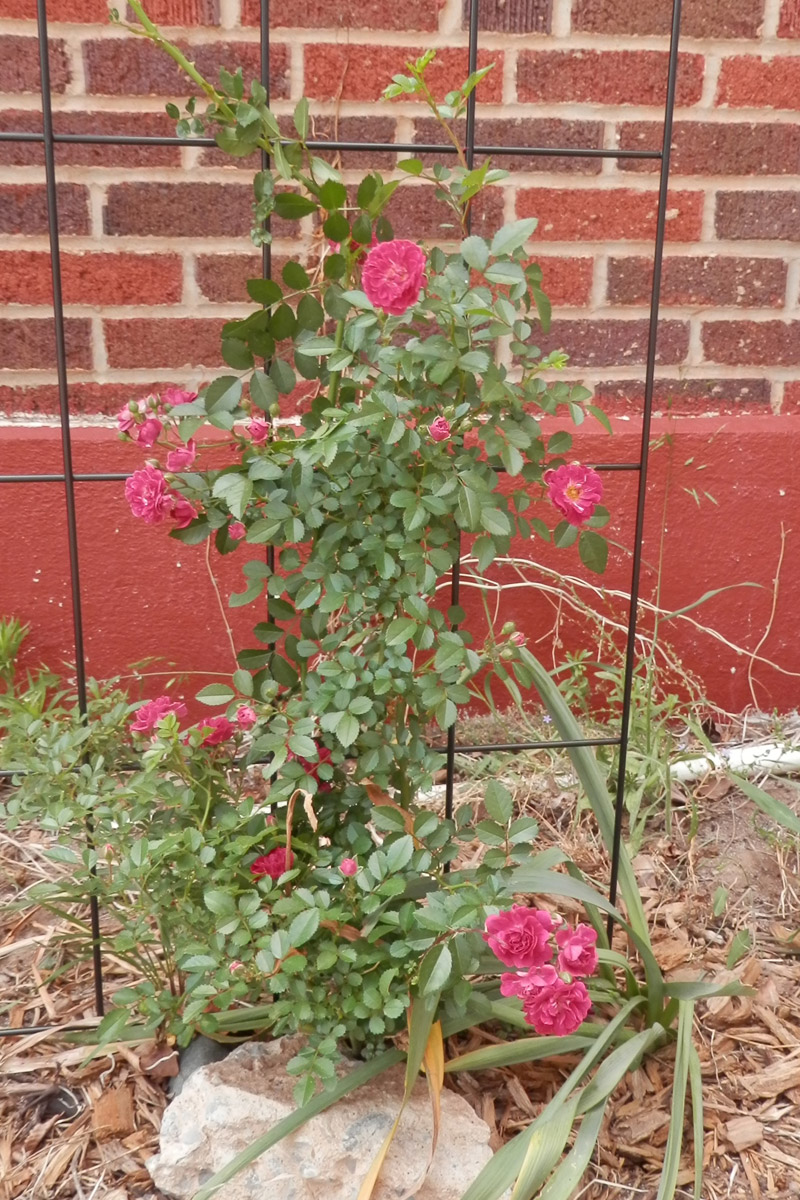 Goodtime Charley - The Wymore Rose
Do not be deceived. This cheeky little rose won't stay little long. Its parentage is from a rose that has covered acres of ground and is still migrating. Our challenge will be to keep it in its place.
The 1889 homestead of L.A. Wymore is at the end of a river road and far enough from town to afford a significant degree of privacy for clandestine pursuits. Mrs. Wymore made the property a destination for those seeking liquid refreshment and other restricted enjoyments. In its lifetime, the parent of this rose has been witness to a variety of adult entertainments and, heedless, has grown unheeded to fill the property with cloaking thorns.
Not all territorial pioneers were sturdy, sober folk. This profligate rose has some of those other traits.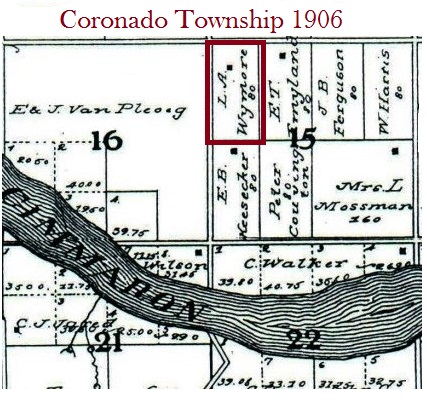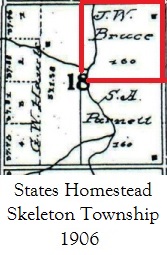 The Sister Roses - Ireta
Ireta States Yarns, the first true Territorial Rose in the garden.
The parent of this rose was planted on the J.W. Bruce' claim shortly after Oliver States took possession and has survived fire, drought, ice, wind, and flood. It was nurtured by a woman determined to see it survive; it was strengthened by buckets of hand-drawn water; it was tended by hands that sewed and planted, swept and baked and held the reins.
It is no surprise that it has a mind of its own.
We thought the drought had taken out the roots Ireta brought to us, but a tiny sprout has taken hold. Like Territorial settlers, it's a survivor. It will grow.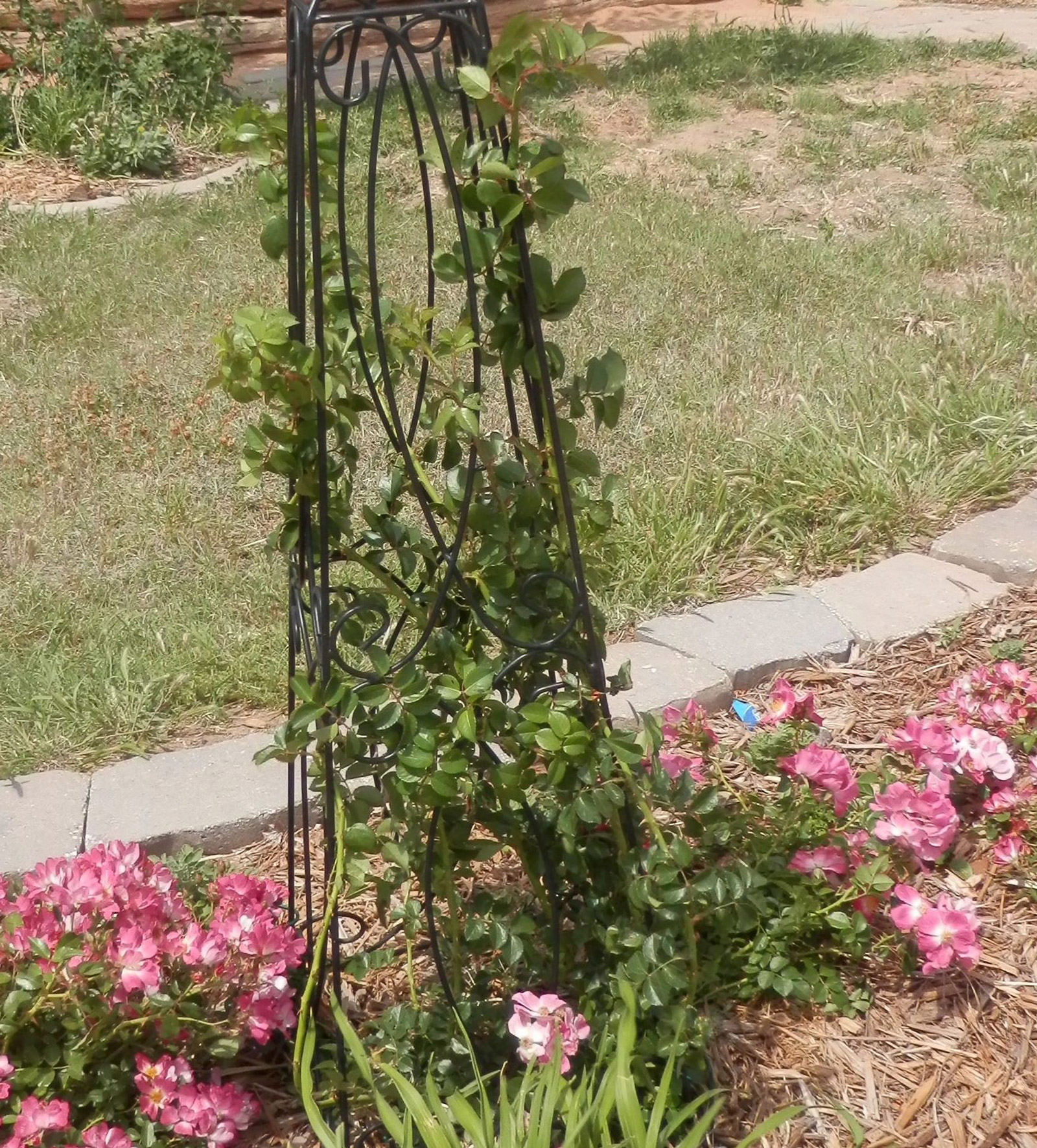 The Sister Roses - Sharen
Donated by Sharen States Pray.
A truly shared sister rose, the parent for this first year addition was first shared with Sharen's mother, Irene, by her sister, and then shared by Sharen States Pray with former Children's Librarian Audry Sanders, who rented the States Farm, and now has been shared with the Library.
Neighbors do that, now as in Territory days. Flowers are shared, labor, tools, opinions--nothing much has changed. The Sharen rose which will grow and grow and bloom and bring much joy and beauty to the garden is the emblem of Territorial generosity.
The Rose That Started It All
Highway 290 Pink Buttons
Rose rustled from along Texas Highway 290 that sparked the interest in gathering surviving pioneer roses, and has resulted in the creation of the Hennessey Territorial Garden.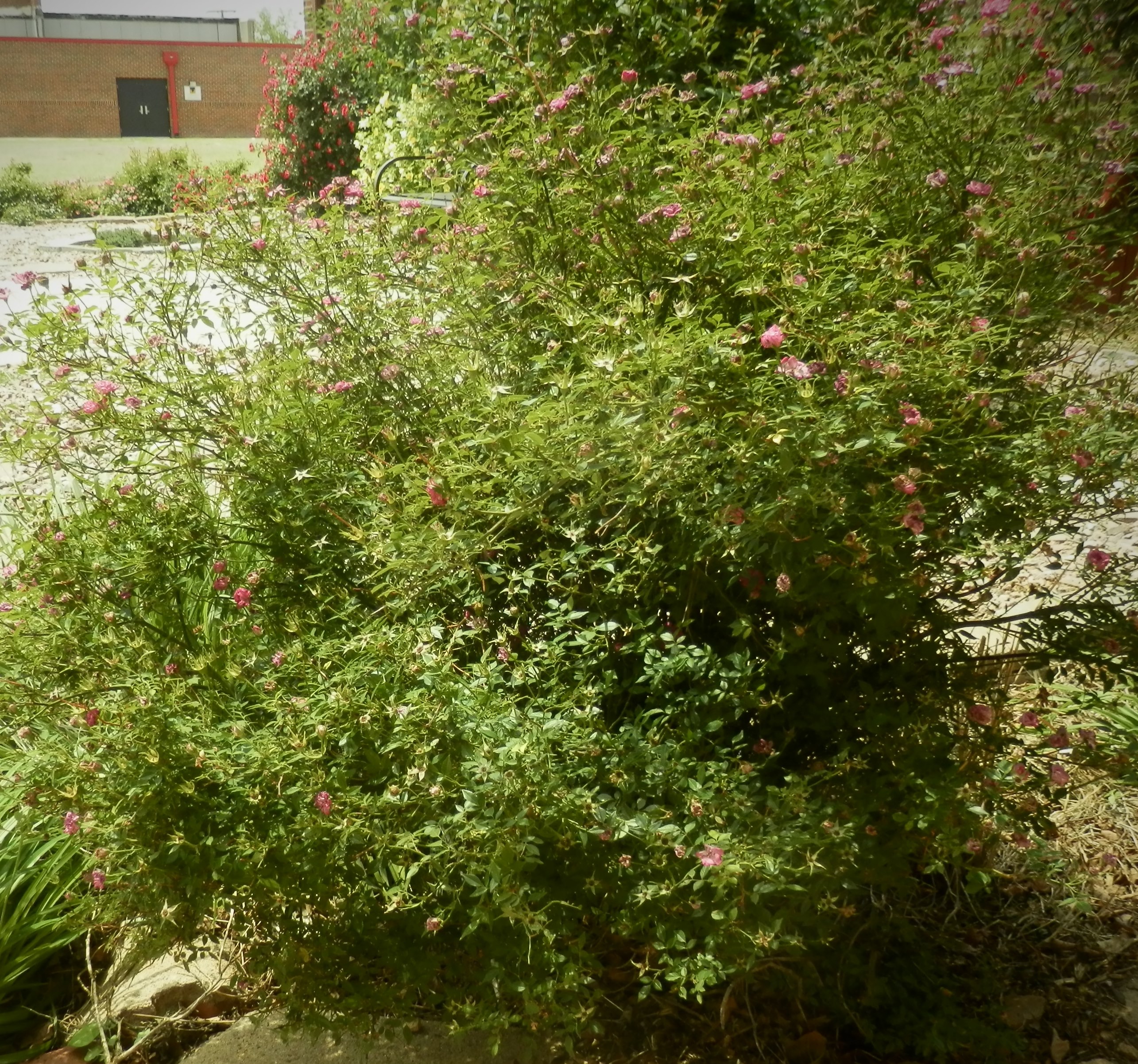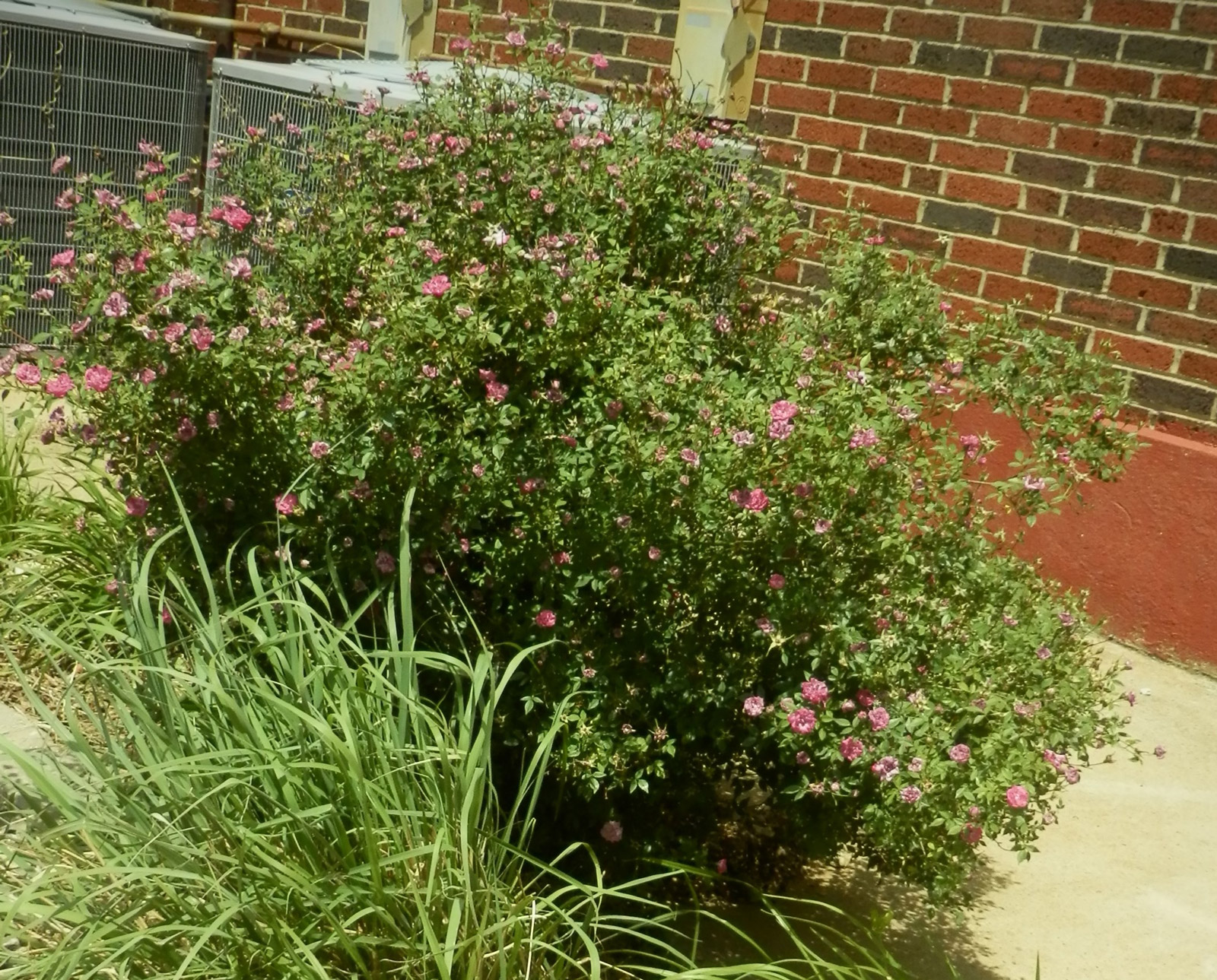 Sometimes a small thing changes everything. It may have been a flyer in a store window, a comment from a passing stranger.
It may have been conversation at the family dinner table or at church or in the saloon. It could have been an article in the newspaper, or maybe even a wagon passing through town, but for every man, woman, and child who made the mad run into the Territory on that Monday after Easter, April 1889, some small spark lit the fire that burned all bridges and sent them here to this place to plant a life.